Our Breath Test Instrument Museum
St. Petersburg / Clearwater DUI Defense Lawyers
We maintain the largest known private collection of vintage and contemporary breath testing instruments in the State of Florida.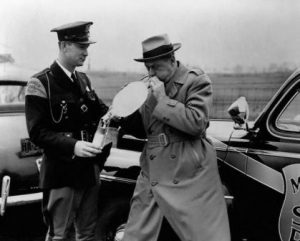 The seven units on display in our office represent a comprehensive evolutionary timeline of the machines used by Florida law enforcement since the very introduction of forensic breath testing in the early part of the 20th century.
These include:
A vintage "balloon-type" Intoximeter (1937)
Smith & Wesson Model 900 Breathalyzer
Smith & Wesson Model 900A Breathalyzer
Smith & Wesson Breathalyzer 1000
Smith & Wesson Breathalyzer 2000
Verax BAC Verifier
Intoxilyzer 4011AS-A
CMI Intoxilyzer 5000
Gall's Model 06055 Law Enforcement Portable Breath Testing Device
Ignition Interlock, LifeSafer Technologies
Ignition Interlock, Sens-O-Lock 1000
We have also secured most of the operator and service manuals used by law enforcement. This includes an orginal "Instructor's Manual" for the CMI Intoxilyzer 5000, which is an intregal part of the training process associated with breath test technician certification. Our library likewise includes full documentation produced by each manufacturer in connection with the required preventive maintenance, calibration and repair of these devices.
Our Breath Test Museum Has Been Visited by the Public, Members of the Legal Profession & the Media
For the benefit of our clients and members of the legal profession, our breath test instruments are available for viewing at our St. Petersburg office location. These devices are professionally exhibited within museum-quality cases. Vintage documents and photos associated with each machine help to guide the viewer to a better understanding of the advances and shortcomings of this continually developing technology. For instance, many of the instruments were shown to have a vulnerability to the electrical intereference caused by handheld police radios. In other cases, the inabliity to screen for mouth alcohol was a problem with early models that did not employ sophisticated "slope detectors."  Even today, the Intoxilyzer currently used in Pinellas County is built on the premise that an average sampling of the population has a breath to blood ratio of 2100 to 1 despite the fact that new studies have revealed that some members of the public actually fall outside of this fixed formula.

Why Looking Back Provides a Fresh Perspective on Contemporary Breath Test Methods
Clients and visiting attorneys who tour our breath test museum often comment that a review of these instruments leaves them with a fresh perspective on the limitations of breath test technology. As each new machine is introduced, it is typically touted as being infallible and on the cutting edge of science. Yet, when viewed in the context of the next generation of breath test devices, last year's model will often look antiquated, rudimentary, or even downright primitive in its ability to analyze breath test samples.
The conclusion that many people reach after a visit to our breath test musuem is that all breath testing instruments have limitations and vulnerabilities.  This holds true  in spite of their initial acceptance and the unbridled enthusiasm displayed by the law enforcement community for each new technology employed.
---
Related Links: