DUI and Prescription Medications Lawyer
St. Petersburg / Clearwater DUI Defense Attorneys
DUI Charges Involving Drugs & Prescription Medication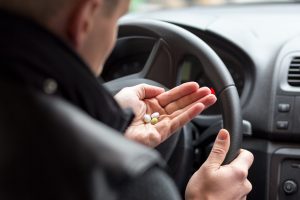 Florida law permits a DUI arrest where the officer has probable cause to believe you are impaired by a "controlled substance" (i.e., many types of prescription medication), or an illegal drug (such as marijuana, cocaine, etc.). Thus, a DUI prosecution can be premised on impairment by either alcohol, drugs, or both. Nevertheless, a DUI and Medications Pinellas Lawyer | Attorney can often be of great assistance in your defense.

A Valid Prescription From Your Doctor is Not a Defense to DUI
One common misconception that is widely held by the public is that having a valid prescription for a medication is a defense to Driving Under the Influence of that medication. This is simply not true. Having a prescription for a medication only allows you to own, use, or possess the medication. It does not give you the right to drive after having consumed the medication, if taking the substance causes you to be impaired while driving.
---
The Difficult Job of the Prosecutor in DUI Drug Cases
By far, the most common law enforcement investigative technique in drug or medication related DUI offenses is urine testing. However, the use of urinalysis evidence in a DUI case is subject to many limitations and shortcomings. As experienced St. Petersburg / Clearwater DUI defense lawyers we are extremely familiar with all of the legal and scientific issues associated with urine testing in DUI cases.
---
What Should I Do if My DUI case Involves Drugs or Medication?
The lawyers in our office have nearly 25 years of combined experience in handling these unique DUI cases. We have studied the scientific and evidentiary issues involved in drug and medication related DUI cases. We also understand the strengths and weaknesses that flow from the use of this evidence in court. We can evaluate all the facts and circumstances of your case, including whether law enforcement employed the services of a certified "drug recognition expert." Such a review is critical to advising you on the best possible course of action, including whether your case may be a good candidate for reduction to reckless driving. Contact a Pinellas DUI and Medications Lawyer at our office to discuss the specifics of your individual case.
Call our office for a free consultation at (727) 578-0303
---
Related Links:
Russo Pelletier & Sullivan Video Vault