DUI and Your Captain's License
Background: Why the U.S. Coast Guard Adopted a "Get Tough" Approach
The grounding of the 30,000 ton tanker Exxon Valdez in Prince William Sound, Alaska on March 24th, 1989 caused the spillage of 11 million gallons of crude oil. This accident represented one of the world's worst environmental disasters. The captain admitted consuming "two or three vodkas" on the night the vessel struck Bligh Reef. The media focused a great deal of attention on the allegation that he was impaired. Subsequently the captain of the Exxon Valdez had his Master's license suspended by the United States Coast Guard for the negligent discharge of the oil.
It is widely believed that this incident encouarged the federal government to issue stringent regulations that affect licensed captains under Title 46 of the Code of Federal Regulations, Sections 10.211 and 10.213. However, it is important to note that this legislation was not limited to conduct at sea, but also included the exercise of poor judgment when the captain was shore-side.
How a DUI Conviction Can Affect Your Captain's License
It is the primary purpose of Coast Guard Suspension and Revocation proceedings under 46 USC Section 7701(a) to promote safety at sea. However, for purposes of evaluating your safety and suitability to remain a licensed captain, the U.S. Coastguard takes a rather broad approach that is not limited to your conduct at sea.
46 USC Section 7703(2) provides that a mariner's credentials can be suspended or revoked if he is convicted of a criminal offense that would have prevented the original issuance or the renewal of his license. Under 46 CFR 10.214, this includes those who have National Driver Registry motor vehicle convictions involving dangerous drugs or alcohol."
The United States Coast Guard employs a rather broad definition of what constitutes a "criminal conviction." Their interpretation differs greatly from the narrow definition typically applied in criminal court and other legal settings. More specifically, 46 CFR section 10.107(b) states: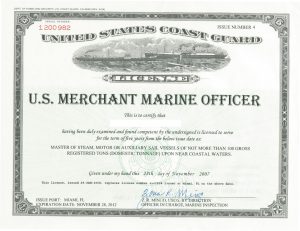 "Conviction means that the applicant for a merchant mariner credential has been found guilty, by judgment or plea by a court of record of the United States, the District of Columbia, any State, territory, or possession of the United States, a foreign country, or any military court, of a criminal felony or misdemeanor or of an offense described in section 205 of the National Driver Register Act of 1982, as amended (49 U.S.C. 30304 ). If an applicant pleads guilty or no contest, is granted deferred adjudication, or is required by the court to attend classes, make contributions of time or money, receive treatment, submit to any manner of probation or supervision, or forgo appeal of a trial court's conviction, then the Coast Guard will consider the applicant to have received a conviction. A later expungement of the conviction will not negate a conviction unless the Coast Guard is satisfied that the expungement is based upon a showing that the court's earlier conviction was in error."
Why Will a Florida DUI Conviction Appear on the National Driver Registry?
Florida joined the "Drivers License Compact" (DLC) which requires members to timely submit DHSMV information to the National Driver Registry (NDR). The National Drivers Registry is a nationwide computerized database of information on drivers who have had their license suspended or revoked, or who have been convicted of DUI and other serious traffic offenses. The Compact Act expressly provides which government agencies can access information on the NDR database. That list includes the U.S. Coast Guard. In addition, 46CFR Section 10.213 provides that your Coast Guard License will not be reissued with a new expiration date:
"Unless the applicant consents to a check of the NDR for offenses described in section 205(a)(3)(A) or (B) of the NDR Act (i.e. operation of a motor vehicle while under the influence of, or impaired by, alcohol or a controlled substance; and any traffic violations arising in connection with a fatal traffic accident, reckless driving, or racing on the highways."
The Regional Exam Center (REC) always performs a National Driver Register check on applicants in accordance with Title 46, United States Code Annotated, Section 7703(3), which will normally reveal an applicant's DUI offense.
Protecting Your Captain's License After a DUI Arrest
If you have been arrested for a Pinellas County DUI, don't wait until the United States Coast Guard finds you on the National Drivers Registry. Take a proactive approach in protecting your Merchant Mariners Document. Call our office to schedule a free consultation: (727) 578-0303
---
How Can I Check to See If I Am Already Listed On The National Driver Registry?
Under the provisions of the Privacy Act, you are permitted to request a file search from the NDR. Your request must be in writing and entitled "Privacy Act Request." The correspondence should include your full name, date of birth, state drivers license issuance, drivers license number, eye color, height, weight, and sex . Although there is no charge for this service, your "Privacy Act Request" must be notarized and mailed to:
The National Drivers Registry
1200 New Jersey Avenue S.E.
Washington, DC 20590
NDR responses can take up to forty-five days. The NDR cannot provide information from their database over the phone. However, they can answer general questions. You can call the National Drivers Registry toll free at: 1-888-851-0436
---
Related Links: